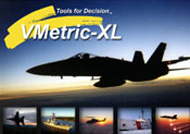 Die Ersatzteilversorgung ist die Kernfunktion in einem effizienten Product Support. Die Ersatzteilhaltung ist eine Investition mit signifikanter Auswirkung auf die gesamten Lebenswegkosten.
Eine intelligente Lagerhaltung ist das wirkungsvollste Instrument zur Steigerung der Systemverfügbarkeit und der Reduzierung der Nutzungskosten.

VMetric XL ist das genaueste, leicht zu handhabende Werkzeug mit geringstmöglichem Umfang von Dateneingaben, und damit weltweit das schnellste, anpassungfähigste Softwaresystem mit größtmöglichen Einspareffekten.
Wie Einsatzberichte zeigen, liegt das Einsparpotential bei 30-50% des Ersatzteilbudgets.

VMetric XL ist die Originalsoftware,
von Dr. Sherbrooke selbst entwickelt mit der Programmierung seiner VARI-METRIC Algorithmen.

VMetric XL errechnet die optimale Ersatzteilversorgung für ein mehrstufiges Modell der Materialerhaltung mit beliebig tief gegliederten Baugruppenstrukturen. Modelliert werden können Probleme bis zu einschließlich drei Lagerstufen mit Hardware-Systemen unbeschränkter Größe und unbeschränkter Einzelteil-Anzahl. Auch eine gemeinsame Optimierung von mehreren Endgeräten, die in einer beliebigen Anzahl von einzeln definierbaren Einsatzorten eingesetzt werden, kann durchgeführt werden.

VMetric XL erlaubt für jedes Teil an jedem Standort differenzierte Parameter und berechnet die optimalen Bestellmengen und die optimale Verteilung der Lagerbestände auf die verschiedenen Einsatz- und Lagerorte.

VMetric XL ist ein Optimierungsmodell für die Lagerhaltung und berechnet den kostengünstigsten Mix der verschiedenen Ersatzteile bezogen auf die unterschiedlichen, vom Benutzer definierbaren Nutzungs- und Unterstützungsbedingungen.


>>> Beachte: VMetric XL ist das Original Spares Tool - entwickelt und geschrieben von Dr. Craig Sherbrooke.



------------ Auszug aus dem "Savings Report" ---------------------------

Joint STARS, under a PBL contract, reported a $57M decrease in inventory cost using VMetric on deployment kits compared to the official US Air Force model used by Air Combat Command

Avondale Alliance unexpectedly won a $1B windfall as high bidder on LPD 17 through the use of the first version of MAAP, which was singled out as the discriminator in the competition with Litton Ingals by both Navy and GAO (GAO = Government Accountability Office)

US Coast Guard USCG R&D Center study (Rodriguez) found that savings of $180M could be obtained from aircraft inventories by general adoption of VMetric (recommendation subsequently accepted and implemented)

A VMetric study for USAF Air Mobility Command (part of the C-5 Tiger Team) found that Ao for the C-5 could be increased from Ao = 56% to 70% at the same time that inventory investment was reduced from $194M to $57M – and cannibalization eliminated

Logistic Management Institute study for NAVICP Naval Inventory Control Point found potential savings of $211M by switching from CARES/ARROWS to VMetric on the provisioning of the FA-18-E/F

US Postal Service claims to have saved several billion dollars by heading off bad designs of public vending machines through early use of EDCAS in new acquisitions



SSC ist europäischer Marketing-Beauftragter in den folgenden Ländern:
Deutschland, BeNeLux, Schweiz, Österreich, Baltikum, Russland, Polen, Tschechien, Slowakei, Ungarn, Rumänien, Griechenland, Türkei.

Für weitere Informationen bitte kontaktieren Sie:

SSC System Support
Consulting GmbH

Rotwandstraße 22
D-81539 München
Peter Eichinger
+49 (0) 89 69 380 342 or
+49 (0) 173 3687 241
info@ssc-eichinger.de





12. Oktober 2007 Pressemitteilung


Monterey, CA – October 5, 2007 -

Montreal Metro selects TFD Group's VMetric software to optimize the inventory on their $1.2 Billion replacement of their MR-62 fleet

Following an independent analysis of all available methods of spares calculation methods Montreal Metro held a competitive tender in June 2007. They selected TFD Group's V-METRIC® software to optimize the inventory on their $1.2 Billion replacement of their MR-63 metro fleet. A contract for the acquisition of TFD Group's V-METRIC capability (including training and on-site consultancy support) was issued in August 2007 and work on optimizing Inventory for Montreal Metro's new trains is due to commence before the end of 2007.

V-METRIC is already in use with the French national railway Inventory (the SNCF) and has been used extensively in commercial air transport, space and military aerospace organizations. Montreal Metro savings are expected to provide a Return on Investments of many tens of thousand percent over the cost of acquiring V-METRIC. Work on optimizing Inventory for the new trains is due to commence before the end of 2007.

In May 2006, the Quebec Government announced the negotiation of a $1.2 Billion contract with Bombardier to replace their existing Canadian Vickers MR-63 metro fleet at the Montreal Metro the Société de Transport de Montréal (STM). Production of the new Metro cars will start in 2009 with the first trains becoming operational between 2010 and 2012. These new trains will conduct more than ¾ Million passenger-journeys per day between 65 stations across a completely underground network of over 60 kilometers of tracks.

Montreal Metro faced the usual difficulty of accurately targeting their initial procurement spares budget to acquire exactly the right resources for the new fleet before they could accumulate and analyze several years of operational history. They engaged an independent team of consultants to systematically analyze all available methods of spares calculation and to recommend the best solution.

During their research, the Montreal Metro Consultants discovered the French national railway: la Société Nationale des Chemins de Fer (SNCF) was already evaluating a method called Variable Multi-Echelon, Technique for Repairable Item Control (V-METRIC). V-METRIC harnesses the power of sophisticated mathematical equations (optimization algorithms) derived in the 1960s by professor Sherbrooke of the RAND Corporation (a nonprofit research and analysis institution that helps improve policy and decision making). The United States Air Force was the first to recognize the potential of V-METRIC and quickly implemented it on their operational aircraft fleets. They realized unprecedented improvements in inventory costs and operational availability. NASA was among the next to adopt V-METRIC, followed by several major commercial airlines. All made significant savings (of between 15%-50%) on their inventory holdings yet each achieved measurable improvement in the availability of their equipment.
TFD Group, headquartered in Monterey, California, is a world leader in the development of analytical methods and software tools that support the economic and strategic decisions of both DoD and commercial system planners. These professional tools are an integral part of any Performance Based Logistics (PBL) system and include: TFD Data Vault, MAAPâ, VMetric®, EDCASâ ACA™ and SCO™.
Numbered among TFDâ clients are a variety of military establishments, virtually all the significant aerospace and defense companies in the world, and a growing list of organizations in the commercial sphere. Notable clients include Lockheed Martin, Northrop Grumman, BAE SYSTEMS, General Electric, General Motors, Parker Hannifin, Raytheon, the Royal Air Force, and the US Coast Guard. There are more than 600 separate TFD software installations. For more information about TFD Group please visit our website at www.tfdg.com.